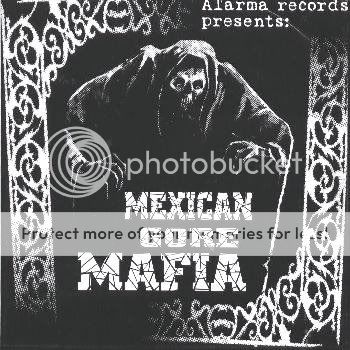 Bueno, ps acá 2 discazos del Grind Nacional para la semana del Grind de Músicos y Metaleros. Par de recopilatoris de Alarma Records, mostrándonos cómo actúa la escena grind mexicana, llamada la Mexican Gore Mafia. Para los que tenían ganas de carnitas, algo puerco, porno, cochino, depreavado y necrofílico, aquí estos dos muy buenos cds.
Mexican Gore Mafia 1
1.- Blasphemesis Excrement
2.- Cópula Amorpha Entre Mongólicos Semen
3.- Violación Masiva Por Cadáveres En Descoposición Semen
4.- Exhumación Del Cuerpo Putrefacto EL Santo
5.- Katrina,Mi Necrofilia Preferida EL Santo
6.- Social... Denied Degrade
7.- Stygmatodermuripyanephrosism On Impetiginose Urogenism Disgorge
8.- Vulgar Surgery Rectal Prolapse Anorrectal Protuberance
9.- Inspection Deepthroat-Tumor Produced Visceral Disgorgement Anorrectal Protuberance
10.- Weakness is Cristianity Enjoy Mi Bicth
11.- Cercenado Sarcoma
12.- Under Exxxciting Dominion of the Vaginal Obcession Paracocciodomicosisproctitissarcomucosis
13.- Canibalismo Hematoma
14.- Hematoma Craneo Encefálico Hematoma
15.- Orgías Coprofílicas Obsceno
16.- Hemorragia Anorrectal Obsceno
17.- Negligentes Médico-Patológicas Intervenciones Quirúrgicas Hipermenorrea
18.- Sexxxy Fat/Bastardo/Massive Vaginal Atake C.A.R.N.E.
19.- First Grade Murder Dahmerized
20.- Necromaniac Dahmerized
21.- Venganza Denigrare
22.- Disbelif Shival Vah
23.- The Circle of Secrets Leper Messiah
24.- Against the Faith Death Crush
Mexican Gore Mafia Vol. II
1.- Sacriface Barbarie
2.- Fucked,Cooked and Eaten Idiot.Flesh
3.- Rectal Pulverizer Puerkochino
4.- Cannibalishims Visceral Grinder
5.- Bizarre Acts Of Gruesome Torture
6.- Dengue Hemorrhagic Fever Visceromegalia
7.- Anormal Vaginal Dischange Visceromegalia
8.- La Invasión de los Muertos Rot
9.- Susto Marrano Liquid Moronga
10.- Flesh Horrísono
11.- Dr. Cebostein Violador
12.- Porkyboy Sanguaza
13.- Troattuck Exxxtreme Command Klismaphiliac
14.- Erótica Profanación de una Fosa Común Gore & Carnage
15.- Living Dead Maggots
16.- Mata al Papa Anal Fuck A Whore
17.- Hematodipsia Devourer
18.- Fecalover WhoreEvil
19.- Disección Craneal Cadaver
20.- Unholy Possesion Frimost
21.- Pisando Craneos Comando Calavera
22.- Esto Ya Es Personal Hecatombe En Tu Ano
23.- Betty, The Sperm Queen Acrimony
24.- Desgarre Anal Psicovomitosis
25.- Temporada de Aniquilación Marasmo
26.- La Diosa Del Inflamundo Ardiente
27.- Te Apestan Las Patas Parishioner
28.- Symbolic Enemy Carnicery
Ay disfruten, y recuerden, mañana empieza la semana del Grindcore wiiii, así que en la semana subiré más material :D